Features of KennelMate Software for Boarding Kennels and Catteries
Features:

Monthly boarding chart, showing days of the month and boarding units, clearly differentiating between future bookings, current boardings, and past boardings.
Daily, weekly and monthly boarding rates.
Apply other daily charges or fixed charges.
Manage grooming.
Options for up to 3 taxes.
Attach photograph of animal.
Boarding details stored for repeat boardings.
Details of up to 8 vaccinations.
Drop lists for diet, medications, vet, etc.
Generate confirmation letters and emails.
Choice of date format (dd/mm/yy or mm/dd/yy).
Scheduler for tasks such as bathing, grooming.
Automatically print invoices for unpaid accounts.
Automatic file back up.
Up to 4 animals can share boarding unit.
Appointments and accounts for non boarded animals.
Flexible password protection.
Split boardings over more than one unit.
Credit card processing using X-Charge (USA and Canada).
Client mail merge.
Checklists for animals.
Print price lists.
Send SMS messages to clients.
Inventory control.
Sell stock to walk-in customers.
WebLink module for accepting bookings online.
User manual as HTML document.
Attach documents to boardings.
Wait list clients.
Graphical appointments diary.
Manage day care.
Export email addresses.
Add employees.

Reports:

Animals arriving and leaving on a given day.
Boardings history for a specified client.
Boardings requiring payment.
Current boardings.
Daily schedule.
Appointments.
Annual occupancy by month.
Payments received.
Revenue (actual and projected).
Clients.
X-Charge transactions.
Sales.
Referrals.
Cancelled boardings.
Expired vaccinations.
New in version 5.5: right click on a boarding to edit charges & payments; double click on boarding chart to start a new boarding. Create csv file for invoices.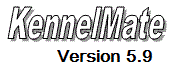 Boarding Software by GrenSoft
Phone: +1 888 213 4610
(Toll free USA & Canada)